Mindful Movements: Ten Exercises for Well-Being (Hardcover)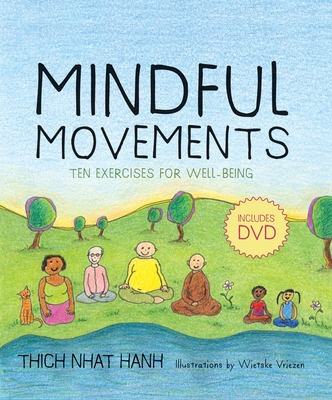 $18.95
Special Order—Subject to Availability
Description
---
Over the years, Thich Nhat Hanh and his monastic community in Plum Village, have developed more and more ways to integrate mindfulness practices into every aspect of their daily life. A few years back Thich Nhat Hanh began to develop gentle exercises based on Yoga and Tai Chi movements. Initially designed as mindful stretching breaks between long periods of sitting meditation, Mindful Movements became a popular tool to complement to sitting meditation extending Thich Nhat Hanh's trademark gentle approach to Buddhist teachings into a series of physical movements. These movements enjoy a growing popularity amongst his students and have become integral part of his retreats. These simple and effective practices are meant to reduce stress and tension to help the practitioner gain the serenity he needs to return to a state of mindfulness. When done as part of a full mediation practice, theses movements can address mental, emotional, and physical stress. 

Offered to the general public for the first time, the Mindful Movements have been lovingly illustrated by one of Thich Nhat Hanh's long-time practitioner, Wietske Vriezen. Drawn in a whimsical and immediately appealing style the booklet presents 10 routines that can be practiced by people of all ages and body types whether they are already familiar with mindfulness practices or not. The Mindful Movements are designed to be accessible to as many people as possible. Far from being another exercise program, Mindful Movements is for all those wanting to add a gentle but physical element to their meditation practice.They can be practiced before or after sitting meditation, at home, or at work - any time you have a few minutes to refresh your body and quiet your mind. For those new to meditation they are a great, non-threatening way to get acquainted with mindfulness as a complete and multi-faceted practice. For those who already have an established sitting practice Mindful Movements will come as a welcomed addition to their practice.

Includes 35 minute DVD of Thich Nhat Hanh and members of his Plum Village Sangha demonstrating Mindful Movements. With little film footage of Thich Nhat Hanh available the sequence of the enclosed DVD that feature him demonstrating these exercises will be a welcome bonus.

Booklet features a foreword by Thich Nhat Hanh and Introduction by Jon Kabat-Zinn [TBC]
About the Author
---
Wietske Vriezen was born in Wassenaar, Holland. She grew up there and in Scotland. She is a longtime practitioner in Thich Nhat Hanh's community. After having travelled and moved around a bit, she settled down in the city of Rotterdam where she works as a psychologist with gifted children. Ever since she was young, she has loved drawing and making little books.

In the year 2000 Wietske met Thich Nhat Hanh on a retreat in Holland and was touched deeply by the practice. Since then, she has spent time practicing in Plum Village and in the local sanghas in The Hague and Rotterdam. Also she has explored different spiritual paths, only to rediscover what she feels is a profound beauty and wisdom in the Buddhist path as Thây teaches it. 

"The words may sometimes appear to be simple, but I discover more and more what depth and riches lie beneath when I really try to practice them in my own life. The practice brings me peace, joy, a sense of stability and a healthy direction to go in. I have also experienced how warm and supportive it is to practice within a Sangha, to grow together with friends going in the same direction."