Narcissistic Abuse, Manipulation, Codependency, Dark Psychology: Take Back Your Life after Psychological and Emotional Abuse. How to Defend Yourself f (Paperback)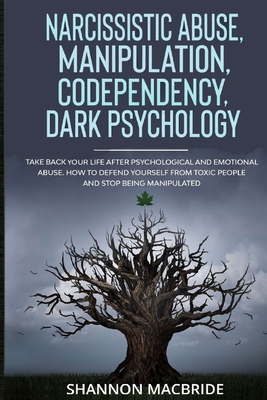 $35.90

Special Order—Subject to Availability
Description
---
Have you ever met a particularly arrogant and conceited person? Completely focused on her needs and desires? And who doesn't seem to be the least bit interested in other people's?Do you think your partner is manipulating you?
If you said yes, you might have had something to do with the so-called
pathological narcissist
. Or maybe you've lived or still live in a relationship with him/her.
Narcissistic abuse is a form of emotional abuse that is characteristic of men and women with a personality disorder. Individuals with this disorder engage in chronic devaluation and manipulation of their partners, and they have a worldview that is characterized by vanity and egotism.
Narcissistic relationships are problematic because the partner often is clueless as to the character of the person he/she is dealing. And what is even more baffling is the addiction bond the victims form with narcissistic abusers. Although narcissists are remarkable for their lack of empathy, they have enough awareness of the subjective emotional states of others to use this to engage in psychological manipulation and mind control. Narcissistic partners employ numerous stealthy tactics for taking control of every aspect of the victim's life. Due to the narcissistic partner's "false self," the charismatic mask he or she projects to society, the victim often feels isolated and is unlikely to have his or her experiences validated by friends, family and society.
This book is composed of 6 manuscripts that deal in depth the different aspects of narcissistic relationships:
Narcissistic Abuse
Narcissism and Codependency
Narcissist and Empath
Healing after Narcissistic Abuse
Dark Psychology Secrets
Dark Psychology and Manipulation
I have also included 2 books on Dark Psychology to give you a 360 picture of all the mental manipulation techniques that toxic people can inflict on those around them. And especially, how to fight them effectively.
Have you ever tried to understand what holds you back from living a life of fulfillment?
The main goals of this book are:
To reveal the obstacles which keep you trapped in a cycle of narcissistic abuse
How to get out of a codependent relationship and how to avoid relations of mutual dependence
How to break the vicious cycle that keeps empaths in the narcissistic relationships
Give you the tools you need for healing, recovery and freedom
Would you like to finally find a resource to understand a narcissist and figure out how to get rid of him/her?
You Will Learn:
The Secret Languages of the Narcissists
How Abusers Manipulate their Victims
Signs You're the Victim of a Narcissist
5 Tips for Neutralizing the Impacts of Narcissistic Abuse
How to Break the Bond of Addiction with the Abuser
How to Spot Covert Emotional Manipulation in Relationships
How to Defend Yourself from Deceptions
How to Become Autonomous through Easy Steps
The Healing Procedure
Would You Like To Know More?
Get this book now to
overcome fear
and keep your life under your control. And no one else's.