Invisible Scars: How to Treat Combat Stress and PTSD without Medication (Paperback)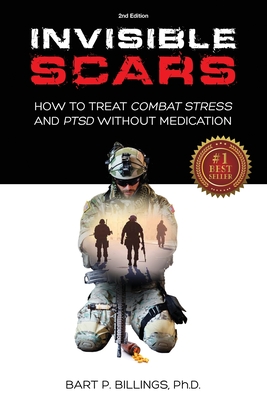 $17.95

Not On Our Shelves—Ships in 1-5 Days
Description
---
Everyday approximately 22 veteran suicides occur with many of them using or having used mind altering psychiatric medications, prescribed for residual effects of combat stress, such as PTSD.

Unfortunately, for well over a decade, the military and VA has had a policy of treating combat related stress problems with psychiatric medications, which have a host of Black Box side effects, including suicide, homicide, anger, hostility, poor judgment, etc.

Post Traumatic Stress (PTS) is a normal human reaction to what can be considered abnormal situations. The 'D' (Disorder) is added to PTS when the soldier or veteran can't return to normal functioning.

In this tell all book, Dr. Billings chronicles the VA & the Military's decision to use brain/mind altering medications for residual effects of combat stress, why they do it, the effects on veterans/soldiers, and how new integrative treatment programs are now helping military veterans return to normal, healthy lives, without brain/mind altering psychiatric medications.

Leading the call for a more intelligent, more effective and humane treatment is Bart P. Billings, Ph.D., a clinical psychologist, retired enlisted soldier, and Medical Service Corps officer (USA retired - 34 yrs.). He has successfully treated hundreds of soldiers with combat stress reactions and PTSD without psychiatric medications.

Dr. Billings is also the Director/Founder of the International Military & Civilian Combat Stress Conference, the longest running conference of its type in the world and developer of the "Human Assistance Rapid Response Team (HARRT)"readiness program, which helps soldiers and their families prepare for the stress and challenges of deployment. The HARRT readiness questionnaire is included in this book.

This book is a must read for anyone who knows or treats those with combat stress related problems, such as, PTS, PTSD, or TBI.