The Christy Wright Goal Planner 2021 (Spiral)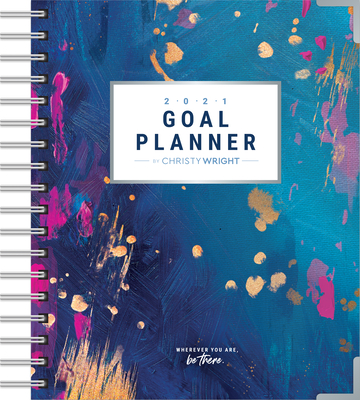 $49.99
Special Order—Subject to Availability
Description
---
This is your year
Your best life comes from being the best you. That's why it isn't enough to focus only on setting goals and organizing your schedule for the new year. Real change, the kind that transforms you and gives you freedom to live a life you're proud of, comes from the inside out. The Christy Wright Goal Planner was created for women who want to live a life that matters. In addition to setting goals and scheduling your time, each month you'll focus on growing in one area of life--starting with your spirit, mind, and body, then moving out to your relationships and resources--so you can live your life on purpose.
What you'll see each month:
Christy encourages and challenges you to work on yourself by focusing on the most important areas of your life, including your spirit, mind, body, relationships, and resources.
Guided journal questions and prayer prompts help you internalize what you're learning and grow in your faith.
These worksheets and templates are an opportunity to put what you're learning into practice. The action you take is what will truly change your life
The monthly and weekly calendars help you plan your schedule, manage your time, tackle your goals, and even knock out your to-do list.
This is a time for you to pause and reflect on the previous month before you dive into the next one.
Whether you want to dream a new dream, tackle a new goal, or just manage your time more intentionally, The Christy Wright Goal Planner will help you do all of that and become a better version of yourself in the process.