Angela Porter's Zen Doodle Designs: New York Times Bestselling Artists' Adult Coloring Books (Paperback)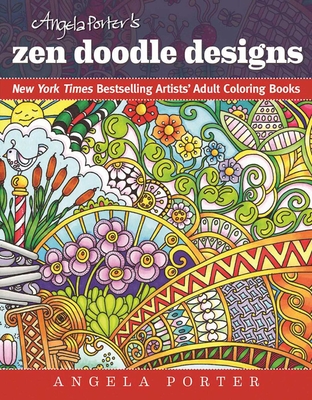 $9.99

Not On Our Shelves—Ships in 1-5 Days
Description
---
Experience the soothing power of adult coloring with these intricate animal tangles created by New York Times bestselling illustrator and master of the abstract Zen style Angela Porter!

Zentangle, a fun and relaxing art form that emerged in the last decade, is often referred to as a meditative practice. Its free-form style, abstract images, and repetitive patterns unite to form elaborate illustrations. This method has been said to increase mindfulness and aid in relaxation, while simultaneously expressing creativity—an ideal remedy for stress. Recently, the form has inevitably made its way into the adult coloring book world and has been helping colorists unwind ever since.

Based loosely on the Zentangle method, Angela Porter's Zen Doodle Designs embraces this style in both the creation of the designs and the coloring of the finished illustrations—only the latter is up to you! Bestselling author and master Zen illustrator Angela Porter takes you on a relaxing journey with this beautiful collection. Featured are forty-nine soothing designs for you to color, each incorporating intricate florals, beautiful swirling and circular patterns, and other aesthetically pleasing, geometric shapes. The pages are perforated and printed on one side, making it simple for you to remove and display your finished works.

So sit down, relax, and break out your colored pencil box along with Angela Porter's Zen Doodle Designs—it's the perfect way to have some fun and decompress!
About the Author
---
Angela Porter is a New York Times bestselling illustrator and a self-taught artist. She finds inspiration in the architecture, archaeology, industrial and scientific heritage, and nature of her surroundings. Much of her intricate work is abstract and whimsical with imaginative elements, rich with flowing lines that create textured and detailed designs. A special needs science teacher for more than twenty-seven years, Angela relaxes with her art and also by playing the flute and learning to play electric folk harp. Her publications include Angela Porter's Zen Doodle Designs. She lives in South Wales, Great Britain, with her crazy white cat that has a fondness for a nice warm mug of tea.