Rejuvenaging: The Art and Science of Growing Older with Enthusiasm (Paperback)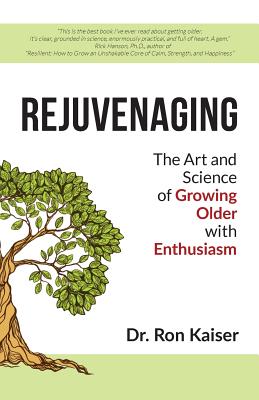 $14.99
Not On Our Shelves—Ships in 1-5 Days
Description
---
The aging process has historically been thought of as a time of slowing down, declining, and "running out the clock." By introducing the concept of REJUVENAGING, psychologist Ron Kaiser provides a blueprint for making the aging proces an active and exciting one. With seven keys and countless practical strategies, the book draws upon the exciting fields of Positive Psychology and Neuroplasticity to provide guidance for maximizing physical and emotional health, social involvements, and improved intellectual functioning during the senior years. As Dr. Kaiser emphasizes, growing older is not a spectator sport.
If you are in the second half century of life, this book will make your children jealous because they're not old enough to
Rejuvenage. But it's actually never too early to follow Dr. Kaiser's formula for growing older in an active, accomplishing, healthy, and enthusiastic manner by maintaining a healthy mindset and lifestyle and by:
- Owning the aging process
- Mastering the 7 keys to Rejuvenaging
- Maintaining mind and body productivity throughout your life
- Building strengths to overcome adversities
- Experiencing the joy of "feeling your age."