We're following all official guidelines to keep ourselves healthy on the job, and as a result, shipping may be delayed.
You will receive an email from our web orders team confirming that your order has been processed.
We thank you for your support and your patience at this challenging time.
Divide Me By Zero (Hardcover)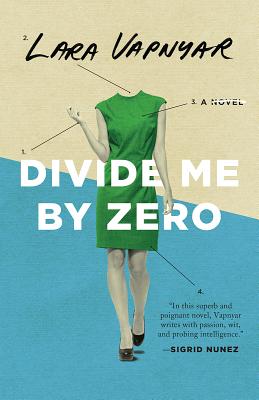 Description
---
"In her superb and poignant new novel, Lara Vapnyar writes about love and other difficulties with the same passion, wit, and probing intelligence to be found in all her writing. Among its many treasures, Divide Me By Zero contains fascinating explorations of the fraught, tangled nature of both romantic and family relationships, and some of the most affecting scenes of bereavement I have ever read." —Sigrid Nunez, The Friend
As a young girl, Katya Geller learned from her mother that math was the answer to everything. Now, approaching forty, she finds this wisdom tested: she has lost the love of her life, she is in the middle of a divorce, and has just found out that her mother is dying. Half-mad with grief, Katya turns to the unfinished notes for her mother's last textbook, hoping to find guidance in mathematical concepts.
With humor, intelligence, and unfailing honesty, Katya traces back her life's journey: her childhood in Soviet Russia, her parents' great love, the death of her father, her mother's career as a renowned mathematician, and their immigration to the United States. She is, by turns, an adrift newlywed, an ESL teacher in an office occupied by witches and mediums, a restless wife, an accomplished writer, a flailing mother of two, a grieving daughter, and, all the while, a woman in love haunted by a question: how to parse the wild, unfathomable passion she feels through the cool logic of mathematics?
Award-winning author Lara Vapnyar delivers an unabashedly frank and darkly comic tale of coming-of-age in middle age. Divide Me by Zero is almost unclassifiable—a stylistically original, genre-defying mix of classic Russian novel, American self-help book, Soviet math textbook, sly writing manual, and, at its center, an intense romance that captures the most common misfortune of all: falling in love.
About the Author
---
Lara Vapnyar came to the US from Russia in 1994. She is a recipient of the Guggenheim fellowship, and Goldberg Prize for Jewish fiction. She is the author of There Are Jews in my House, Memoirs of a Muse, Broccoli and Other Tales of Food and Love, The Scent of Pine, and Still Here. Her stories and essays have appeared in The New Yorker, The New York Times, Harper's, and Vogue.
Praise For…
---
Woven together with math concepts and plenty of raw feelings, this is a love story for those who are forever engaged in the pursuit of happiness. (Starred Review)

It's almost impossible to put the book down without devouring it in one sitting. A poignant, vivid, and frequently funny novel.

Among the many pleasures of the novel is Vapnyar's portrayal of the intellectual connection Katya has with her children, which is disarmingly lovely. ... This is a frank, amusing, and melancholy novel.

Vapnyar's latest is the fascinating story of a brilliant, emotionally volatile protagonist whose wicked humor appears in frequent asides made directly to the reader, along with a smattering of whimsical graphics, and Nina's handwritten notes for her unrealized textbook. Smart, complicated, irresistible.

Divide Me by Zero is, despite its honestly about the difficulties of a life fully lived, is a celebration: a sensitively told, honest account of the messiness and beauty of loving with abandon and living in a manner that defies easy categorization, numerical or otherwise.


Divide Me by Zero plunges into dark comedic territory with savage grace ... A novel that treats the emotional territory of adulthood with devastating aplomb.


Everything I love about Lara Vapnyar's vision and voice—her blazing intelligence, skewering wit and exuberant prose—is contained in this wild and witty novel. I don't know how her work manages to feel absolutely timely and perfectly timeless all at once. Divide Me By Zero is an inventive page-turner that explores familial and romantic love, passion, the inevitability of grief, and the ways we manage all of those things in compassionate and wonderfully surprising ways. I was so sorry when I finished and I'll think about this book and its characters for a very long time.

— Cynthia Sweeney

Lara Vapnyar is one of my very favorite writers: funny and true and with the rare talent to assemble one ideally telling scene after another. She is also one of the few writers I would recommend to all my friends, with all their varying tastes, because the charisma of her storytelling is unmissable.
— Rivka Galchen

Divide Me by Zero is a keen, penetrating novel about the quest for love—romantic and otherwise—that drives one woman's life. Lara Vapnyar brilliantly evokes (by way of, yes, math) a span of decades, a pair of continents, and a plethora of uneasy emotions. This book is so unflinchingly honest about the human condition that I couldn't put it down.

— Helen Phillips