Emotional Intelligence: The 21-Day Mental Makeover to Master Your Emotions, Improve Your Social Skills, and Achieve Better, Happier Relationsh (Paperback)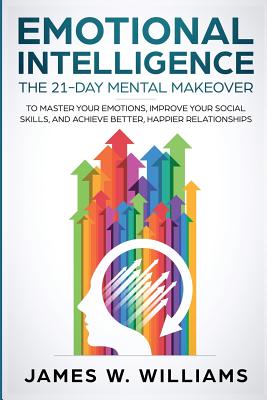 $16.99

Not On Our Shelves—Ships in 1-5 Days
Description
---
Would you like to be able to communicate more effectively? Would you like to build better quality relationships? Would you like to make yourself more employable by becoming more self-aware of other peoples emotions and a better team player in the constantly changing, and culturally diverse environment?
If you've answered yes, this is the book for you Emotional Intelligence: The 21-Day Mental Makeover to Master Your Emotions, Improve Your Social Skills, and Achieve Better, Happier Relationships highlights the main components of emotional intelligence, and how developing them can contribute to your overall success in life.
Inside you'll discover:
What emotional intelligence is, and how it affects your relationships
How developing emotional intelligence can significantly improve your life in all areas
How to decode the emotional and psychological messages that affect your thought pattern
The underlying causes of poor interpersonal skills
The 21-day Challenge to help you restructure your life, and improve your relationships
Simple tips and exercises you can start doing today to instantly raise your EQ
and much more
This book can help you have an edge over those who speak or act, without thinking. You will realize why people with higher emotional intelligence never ignore their feelings, but recognize and process them, before responding to them.
You will understand why emotional intelligence has become a highly sought-after skill, and why the 21-century employers need people who can work well under pressure, and cope in culturally diverse, or emotionally charged environments.
Although you may not be able to control the emotions you experience, you will learn how to control your reaction to those emotions, and the impact such reactions can have on those around you.
The ultimate eye-opening guide to mental and emotional makeover, Emotional Intelligence: The 21-day Mental Makeover to Master Your Emotions, Improve Your Social Skills, and Achieve Better, Happier Relationships will guide you through the path to emotional intelligence mastery
So, click "Buy Now" and start on a journey of self-discovery, and witness an almost instant improvement in your relationships and life