We're following all official guidelines to keep ourselves healthy on the job, and as a result, shipping may be delayed.
You will receive an email from our web orders team confirming that your order has been processed.
We thank you for your support and your patience at this challenging time.
Love: A Novel (Hardcover)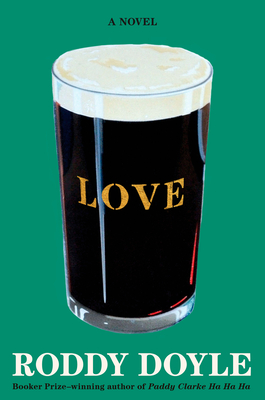 Description
---
Two old friends reconnect in Dublin for a dramatic, revealing evening of drinking and storytelling in this winning new novel from the author of the Booker Prize winning Paddy Clarke Ha Ha Ha

One summer's evening, two men meet up in a Dublin restaurant.

Drinking pals back in their youth, now married and with grown up children, their lives have taken seemingly similar paths. But Joe has a secret he needs to tell Davy, and Davy has a sorrow he wants to keep from Joe. Both are not the men they used to be.

Joe has left his wife and family for another woman, Jessica. Davy knows her too, or should - she was the girl of their dreams four decades earlier, the girl with the cello in George's pub. As Joe's story unfolds across Dublin - pint after pint, pub after pub - so too do the memories of what eventually drove Davy from Ireland: his first encounter with Faye, the lively woman who would become his wife; his father's somber disapproval; the pained spaces left behind when a parent dies.

As the two friends try to reconcile their versions of the past over the course of one night, Love offers a delightfully comic yet moving portrait of the many forms love can take throughout our lives.
About the Author
---
Roddy Doyle was born in Dublin in 1958. He is the author of ten acclaimed novels, including The Commitments, The Van (a finalist for the Booker Prize), Paddy Clarke Ha Ha Ha (winner of the Booker Prize), The Woman Who Walked Into Doors, A Star Called Henry, The Guts and, most recently, Smile. Doyle has also written several collections of stories, as well as Two Pints, Two More Pints, and Two for the Road, and several works for children and young adults including the Rover novels. He lives in Dublin.
Praise For…
---
Praise for Love:

"[Love] isn't so much about what happens, or happened once upon a time, as it is about the mystically inaccurate nature of language . . . Doyle puts feeling first in this novel by putting it last, in the final pages . . . in the end, you see that the sacred world of the two friends was lurking in all that preceded this final scene, and concealing itself so successfully that they themselves did not realize how much they cared for each other." —The New York Times Book Review

"This story, with its beer-inspired and home-brewed philosophy, its funny and painful moments, is about love . . . and the remembrance of love between friends, lovers, and family . . . Doyle's narrative style is fast-paced and deceptively easy to read . . . [dialogue] goes down as smoothly as gulps of beer. . . [a] brilliant two-character story." —The Boston Globe

"Doyle, the author of tales that feature crackling wit and dialogue […] knows what he's doing . . . [A] subtle, observant novel." —The Minneapolis Star Tribune
 
"[A] funny, poignant, profane, unpredictable conversation about friendship, marriage, parenthood, aging, Dublin pubs and the eternal mystery of the title." —Tampa Bay Times
 
"Here is a paean to all things Irish. Fans of [Doyle] will be glad to follow old mates Davy and Joe through a pub crawl that is both elegiac and hilarious." —The Washington Post

"This witty, satisfying novel about male friendship, aging, and guilt from Doyle dramatizes language's inadequacies when it comes to affairs of the heart . . . [T]he two men are nothing if not good company. By closing time, Doyle has focused the novel's rambling energy into an elegiac and sobering climax. This one is a winner." —Publishers Weekly

"[A] freewheeling tale of longtime mates Joe and Davy . . . As the two track back through the years of their marriages, a mixture of regret and melancholy permeates what's both spoken and left unspoken. And, yet, at the end of this long night's journey into day, we are buoyed against the sadness by what is finally a portrait of love in the face of life." —Booklist