Textbook for Transcultural Health Care: A Population Approach: Cultural Competence Concepts in Nursing Care (Paperback)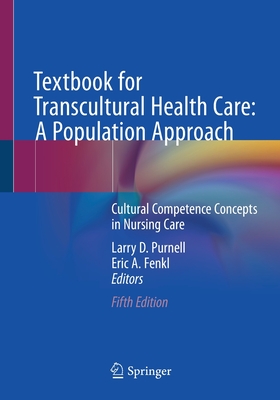 $99.99

Not On Our Shelves—Ships in 1-5 Days
Description
---
This textbook is the new edition of Purnell's famous Transcultural Health Care, based on the Purnell twelve-step model and theory of cultural competence. This textbook, an extended version of the recently published Handbook, focuses on specific populations and provides the most recent research and evidence in the field. This new updated edition discusses individual competences and evidence-based practices as well as international standards, organizational cultural competence, and perspectives on health care in a global context. The individual chapters present selected populations, offering a balance of collectivistic and individualistic cultures.
Featuring a uniquely comprehensive assessment guide, it is the only book that provides a complete profile of a population group across clinical practice settings. Further, it includes a personal understanding of the traditions and customs of society, offering all health professionals a unique perspective on the implications for patient care.
About the Author
---
Dr. Larry D. Purnell is Emeritus Professor from the University of Delaware where he coordinated the graduate programs in nursing and healthcare administration and taught culture. His Model, the Purnell Model for Cultural Competence has been translated into Arabic, Czech, Flemish, Korean, French, German, Japanese, Persian, Portuguese, Spanish, and Turkish. His textbook on Transcultural Health Care won the Brandon Hill and American Journal of Nursing Book Awards. Dr. Purnell has over 100 refereed journal publications, 100 book chapters, and 14 textbooks, including updated editions. He has made presentations throughout the United States as well as in Australia, Colombia, Costa Rica, England, Denmark, Italy, Korea, Panama, Russia, Scotland, Spain, and Turkey. He is the U.S. Representative to the European Union's Commission on Intercultural Communication resulting from the Salamanca, Sorbonne, Bologna, and WHO Declarations. He has been on the International Editorial Board, for six journals. Dr. Purnell is a Fellow in the American Academy of Nursing, a Transcultural Nursing Scholar, Luther Christman Fellow, and is on the Rosa Parks Wall of Fame for Teaching Tolerance.Dr. Eric A. Fenkl, an Associate Professor of Nursing, received his PhD in Nursing from the University of Wisconsin - Milwaukee. Dr. Fenkl's research interests include the cultural aspects of HIV/HPV prevention and related disease among LGBT populations with a particular emphasis on MSM and ethnically diverse populations. Dr. Fenkl has been the Co-PI on two large grants from the Center for Substance Abuse Prevention, SAMHSA. One to develop a program focusing on HIV/STD and substance abuse prevention for minority LGBT students on campus and a second one to implement a program for outreach in the greater Miami metropolitan area specifically for at-risk minority MSM. Dr. Fenkl has presented at numerous national and international conferences and has published widely in peer-reviewed journals globally. Dr. Fenkl's teaching is focused on the facilitation of cultural competence in advanced practice nursing.