Corona: Política en tiempos de pandemia / Corona: Politics in the Time of a Pandemic (Paperback)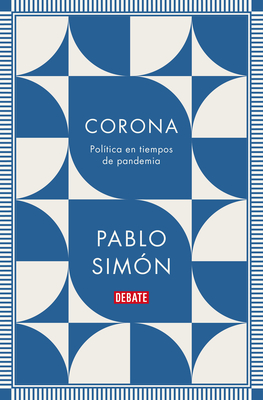 Description
---
QUÉ SIGNIFICA HACER POLÍTICA EN TIEMPOS DE PANDEMIA?

EL POLITÓLOGO PABLO SIMÓN ANALIZA LOS EFECTOS QUE TENDRÁ ESTA CRISIS.

La crisis de la COVID-19 ha impactado en infinidad de aspectos de nuestra realidad y, entre ellos, también se encuentra el político. Justamente sobre esto último versa Corona, sobre las principales cuestiones políticas destapadas por el virus. Fundado en precedentes históricos, literatura especializada y los hallazgos más recientes, el argumento central de este libro es que esta crisis tiene dos caras: es tanto un precipitador de cambios preexistentes como una ventana de oportunidad para transformaciones futuras.

La gestión de la globalización durante la expansión del virus, la reacción de los gobiernos en las emergencias, cómo se posicionan los votantes ante las catástrofes, el futuro de la Unión Europea, la desinformación en las redes sociales o el impacto del virus en los estados de bienestar son algunos de los temas tratados. En muchos casos, más que conclusiones, se apuntan hipótesis y cuestiones abiertas, que constituyen un modesto pero fundamental primer paso para intentar aprender más sobre qué significa hacer política en tiempos de pandemia.

ENGLISH DESCRIPTION

WHAT DOES IT MEAN TO MAKE POLICY DURING A PANDEMIC?
 
POLYTHOLOGIST PABLO SIMÓN ANALYZES THE EFFECTS THIS CRISIS WILL HAVE.
 
The COVID-19 crisis has impacted countless aspects of our reality and, among them, the political one. The book Corona is concerned precisely about the latter, about the main political issues this virus has uncovered. Based on historical precedents, specialized literature, and the most recent findings, the central argument of this book is that this crisis has two faces: it is both a precipitator of pre-existing changes and a window of opportunity for future transformations.

The management of globalization during the spread of the virus, the reaction of governments in emergencies, how voters position themselves in the face of catastrophes, the future of the European Union, misinformation on social media, or the impact of the virus on states' wellness are some of the topics covered. In many cases, more than offering conclusions, hypotheses and open questions are pointed out, which constitute a modest but fundamental first step in trying to learn more about what it means to do politics in the time of a pandemic.