Superfreakonomics: Enfriamiento global, prostitutas patrióticas y por qué los terroristas suicidas deberían contratar un seguro de vida / SuperFreakonomics (Paperback)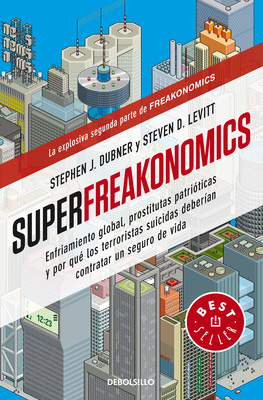 $13.95
Not On Our Shelves—Ships in 1-5 Days
Description
---
La explosiva segunda parte de Freakonomics.
La economía trata sobre la inflación, los tipos de interés y la bolsa. 
Superfreakonomics 
habla de prostitutas, traficantes de droga y luchadores de sumo fracasados. Han sido cuatro años buscando no solo las preguntas más difíciles, sino las más sorprendentes: ¿Es más peligroso conducir borracho o caminar borracho? ¿Por qué se receta la quimioterapia tan a menudo si es tan poco eficaz? ¿Puede un cambio de sexo elevar tu salario?
Superfreakonomics desafía nuestra manera de pensar, y explora el lado oculto de las cosas con preguntas como:
*¿En qué se parece una prostituta al Papá Noel de unos grandes almacenes?

*¿Por qué los médicos se lavan tan poco las manos?

*¿Cuán útiles son los cinturones de seguridad?

*¿Cuál es la mejor manera de atrapar a un terrorista?

*¿Provocó la televisión un incremento del crimen?

*¿Qué tienen en común los huracanes, los ataques al corazón y las muertes en carretera?

*¿Para el ser humano es innato el altruismo o el egoísmo?

*¿Podemos salvar el planeta comiendo canguro?

*¿Qué genera más valor añadido, un proxeneta o un agente inmobiliario?
Levitt y Dubner combinan una gran inteligencia con la capacidad para contar historias mejor que nadie, ya sea a la hora de buscar una solución al calentamiento global o explicar por qué el precio del sexo oral ha caído de manera tan radical. Al analizar cómo la gente responde a los incentivos, muestran el mundo tal cual es: bueno, malo, feo, y finalmente, superfriki.

Muchos han intentado imitar el éxito de Freakonomics, pero solo Superfreakonomics lo supera.

ENGLISH DESCRIPTION

Freakonomics lived on the New York Times bestseller list for an astonishing two years.

Now authors Steven D. Levitt and Stephen J. Dubner return with more iconoclastic insights and observations in SuperFreakonomics—the long awaited follow-up to their New York Times Notable blockbuster. Based on revolutionary research and original studies SuperFreakonomics promises to once again challenge our view of the way the world really works.
About the Author
---
Stephen J. Dubner es un autor laureado, periodista y personalidad de la radio y la televisión. Abandonó su primera carrera -como «casi» estrella del rock- para escribir libros. Ha trabajado para The New York Times y ha publicado tres obras no relacionadas con la «freakonomía». Vive con su familia en Nueva York.