P&P Live! Jillian Tamaki-Our Little Kitchen
Thursday, October 22, 2020 - 10:00am
Amazing things happen when a community comes together with creativity, energy, and food! Drawn from author/illustrator Jillian Tamaki's volunteer experiences at a small community kitchen in Brooklyn, Our Little Kitchen captures the chaotic but caring work of neighbors taking care of each other with meals and friendship. Tamaki combines the action-filled illustrations of a graphic novel with a rhyming narrative for an explosion of colors, words, tastes, and smells. "Three bags of apples some of them bruised…cut off the brown bits, they're still good to use!". Thumb to the back endpapers to see how these second-hand apples are turned into a dessert to warm the bellies of those you love.
Jillian Tamaki is a cartoonist and illustrator. She grew up in Canada and attended the Alberta College of Art and Design. The graphic novel she wrote with her cousin Mariko Tamaki, This One Summer, won a Caldecott Honor in 2015. Her graphic novels center on the messy, scary and confusing parts of growing up. She draws comics, editorial and book illustration, teaches, and contributes to the TV show Adventure Time.
Ages 4-8
Click here to join the Live! event.
Child & Teen
Children
Offsite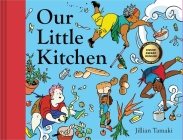 $17.99
ISBN: 9781419746550
Availability: In Stock—Click for Locations
Published: Harry N. Abrams - September 22nd, 2020
---

$17.99
ISBN: 9781419728518
Availability: In Stock—Click for Locations
Published: Harry N. Abrams - March 13th, 2018
---
Not Signed or Personalized