To some, art may seem unnecessary. For James Castle, however, it was essential. Born in 1899 and never able to hear, speak, or read, he lived in a world of Silent Days, Silent Dreams (Arthur A. Levine, $21.99) as he endured abuse and neglect. He had no way to communicate anything of his experiences… except for art. Even when his teachers confiscated his drawing materials, Castle would use burnt matchsticks and other cast-off items to make images however and whenever he could. Allen Say employs some of Castle's own artistic methods in his nuanced story of Castle's life, told through the eyes of Castle's nephew. The recognition Castle received later in life is a poignant conclusion to a story that will leave an indelible mark on those who read it. Ages 9-12.

$21.99
ISBN: 9780545927611
Availability: In Stock—Click for Locations
Published: Arthur A. Levine Books - October 31st, 2017
---
Look! What Do You See? An Art Puzzle Book of American & Chinese Songs (Viking, $18.99) is a book unlike any other. Artist and MacArthur Fellow Xu Bing has devised an ingenious "square word calligraphy," written with modified traditional brush strokes, and used it to spell out the words to several familiar sing-along songs. Your mission, for "mystery solvers, puzzle masters, and cryptographers," is to decipher the lyrics. The calligraphy sits on tan pages, reminiscent of aging silk scrolls, and gentle folk-art-inspired gouache paintings by Becca Stadtlander depict the subjects of each song. It would be wrong to give away the sly secret, but there is an answer key in the back, as well as instructions on how to write the calligraphy. Fans of Xu's work can see his hanging sculpture, Monkeys Grasp the Moon, in the stairwell of the Sackler Gallery on the Mall. Ages 9 and up.

$18.99
ISBN: 9780451473776
Availability: Not On Our Shelves—Ships in 1-5 Days
Published: Viking Books for Young Readers - November 7th, 2017
---
The amazing duo who created The Man with the Violin returns with a new tribute to the celebrated violinist and conductor Joshua Bell. In a dazzling narrative, Kathy Stinson traces the young musician's earliest years and focuses on his amazing talent and first competition. Dusan Petricic's illustrations capture The Dance of the Violin (Annick, $18.95) and bring to life the exuberance and flourish of Bell's playing as well as his persistence after making mistakes. Back matter provides answers for young readers who wish to discover more about Joshua Bell. Ages 4-8.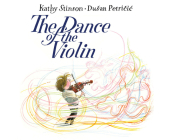 $18.95
ISBN: 9781554519002
Availability: In Stock—Click for Locations
Published: Annick Press - March 14th, 2017
---
Pages