Originally included in a letter to his sister, written to make her smile, poet John Keats's A Song About Myself (Candlewick, $17.99) does not disappoint. A whimsical rhyme brought to life by Chris Raschka's detailed and delightful watercolor illustrations takes you on a romp through the countryside of Scotland with the young Keats. Arriving at the end of the poem, you feel like you've just finished a long walk with a close friend. In four short chapters, Keats has crafted a fast-paced story while providing opportunities for the reader to pause and reflect along the way. It's a journey you'll want to make all over again. Ages 6-9.

$17.99
ISBN: 9780763650902
Availability: Special Order—Subject to Availability
Published: Candlewick - March 14th, 2017
---
George Ancona, whose photography has documented children's activism in Can We Help? and It's Our Garden, turns his camera and his straightforward, documentary-style text on an extraordinary annual performance at the National Dance Institute of New Mexico. More than 500 schoolchildren come together to perform 20 dances based on children's books, each with artful costuming and expressive choreography that leaps from the page. The elaborate preparations in local school gymnasiums are recounted alongside a quieter story of four boys who are pulled from their classes for extra training. From pas de deux to stage fighting, this is what Boys Dancing (Candlewick, $16.99) looks like. Ages 6-9.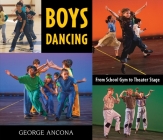 $16.99
ISBN: 9780763682026
Availability: Not On Our Shelves—Ships in 1-5 Days
Published: Candlewick - April 11th, 2017
---
From samba to square dance, Feel the Beat (Dial, $17.99) with fun and imaginative poems about dances from around the world. Each poem is cleverly crafted by Marilyn Singer to match the rhythm of its respective dance, and is accompanied by Kristi Valiant's illustrations that are full to bursting with the colorful, kinetic energy. The book includes back matter describing the dances, as well as a CD of Singer reading each poem set to the appropriate music. It's a collection that really swings! Ages 7-10.

$17.99
ISBN: 9780803740211
Availability: In Stock—Click for Locations
Published: Dial Books - March 7th, 2017
---
Pages