Even those who know every word to "Twinkle, Twinkle, Little Star" will benefit from a copy of Sing with Me! (Henry Holt, $16.99), a collection of traditional nursery songs. These tried-and-true songs have gotten a breath of new life thanks to interactive finger plays accompanying each song and Naoko Stoop's cheerful illustrations, in which even the itsy-bitsy spider sports an itsy-bitsy smile. A subtle wood-grain backdrop gorgeously offsets the simple lines of Stoop's characters, while newsprint collage peeks through bits of the painting to create a dreamy, textured effect. Thanks to its classic songs, innovative finger plays, and incomparable illustrations, Sing with Me! is a lovely gift for new parents, toddlers, and early childhood educators. Ages 1-4.

$16.99
ISBN: 9780805099041
Availability: In Stock—Click for Locations
Published: Henry Holt and Co. (BYR) - July 12th, 2016
---
Jessica Courtney-Tickle's gorgeous visual interpretation of Antonio Vivaldi's Four Seasons begins as a sleeping girl named Isabelle awakens. She collects a tiny apple tree and her puppy, Pickle, and embarks upon an accelerated journey through the seasons that takes only a single day. Beginning with spring and an unexpected shower, Isabelle and Pickle then travel though summer, autumn, and winter in turn. "Press Here" music notes on every page play brief selections from Vivaldi's Four Seasons. The Story Orchestra: Four Seasons in One Day (Frances Lincoln, $22.99) is an ingenious and accessible way to introduce young children to some of the most enduring music ever composed. Ages 5-8.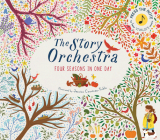 $24.99
ISBN: 9781847808776
Availability: In Stock—Click for Locations
Published: Frances Lincoln Children's Books - October 4th, 2016
---
Take a trip through the history of art with this cohesive and accessible volume of awe-inspiring variety. Beginning with cave paintings and ending with artists still living today, Vincent's Starry Night and Other Stories (Laurence King, $29.95) spans thousands of years in 68 chronologically arranged tales. Michael Bird recounts the life stories of a number of artists and imagines what they might have thought and said about their own creative journeys, while Kate Evans's evocative watercolors include both original compositions and appealing reproductions of the famous works that Bird discusses. Warranting multiple reads from cover to cover, this is a perfect way to expose children to the wonders of human creativity through the ages. Ages 9-14.

$29.95
ISBN: 9781780676159
Availability: In Stock—Click for Locations
Published: Laurence King Publishing - August 23rd, 2016
---
Pages