This slim volume by the Dutch master begins with two Europeans in a cafe as they discuss the gap between how outsiders view Japan as a place of eastern mysticism and profound beauty and how it is in reality: a place bound to the same blandness and imperfections from which all places suffer. It is also a love story between a Dutch photographer and a Japanese model, whose relationship is doomed from the very beginning due to the insuperable gulf between the two cultures. It is a sign of Nooteboom's mastery of his craft that he was able to create two different narratives and meld them into one cohesive whole.

$19.00
ISBN: 9780857424846
Availability: Special Order—Subject to Availability
Published: Seagull Books - November 15th, 2017
---
Gauld is at it again with his newest collection of short and witty comic pieces that first appeared in publications like The Guardian, The New Yorker, and The New York Times. His subjects mostly relate to the literary world but he imbues them with dry wit and postmodernism. The targets of his cartoons are often the intellectual posturings of the literary community or constraining conventions in pop culture. It's not, however, mean-spirited. These are cartoons after all, and they are generally gentle-minded ribbing that is sure to illicit a chuckle or two.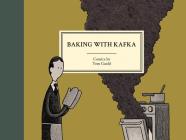 $19.95
ISBN: 9781770462960
Availability: Not On Our Shelves—Ships in 1-5 Days
Published: Drawn and Quarterly - October 3rd, 2017
---
In John le Carré's new novel, A Legacy of Spies (Viking, $28), his hero, Peter Guillam, former spymaster and erstwhile protegé to George Smiley, finds himself in the unfamiliar territory of post-Cold War England. Peter has been summoned out of his retirement on a farm in Brittany by descendants of his previous masters in the Circus. Their agenda? To make Peter answerable for his supposed crimes against the progeny of his late colleague and friend, Alec Leamas, who now accuses Peter of complicity in the death of his father. In a way, le Carré continues to litigate the moral complexity of the Cold War after the fact, but he now has one more tool in his literary arsenal: the distance afforded by time. And this allows him to tell a compelling story about the human casualties of the Cold War resulting from the choices we have to make in the name of duty and country.

ISBN: 9780735225114
Availability: Hard to Find
Published: Viking - September 5th, 2017
---
Pages