An internationally known photographer specializing in music, Antonia Tricarico has more than two decades of experience, including collaborating with Dischord Records, Kill Rock Stars, and Youth Action Research Group. Focusing largely on the women of D.C's vibrant music underground from the 1990s to today, Frame of Mind (Akashic, $32.95) features more than 150 photos of classic homegrown performers such as Fugazi, Branch Manager, and the Make-Up along with bands they became or inspired—Dead Meadow, Motorcycle Wars, the Evens, and Weird War—and visiting musicians like Dutch group the Ex and Italy's Uzeda. The stunning images are complemented by essays by some of the top female artists of the era, including Joan Jett, Amy Farina, Tara Jane O'Neil, and more.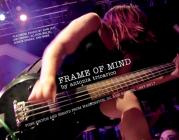 $32.95
ISBN: 9781617757198
Availability: In Stock—Click for Locations
Published: Akashic Books - June 4th, 2019
---
One of our foremost film scholars, Jeanine Basinger founded both the department of film studies at Wesleyan—now ranked among the country's top ten film schools—as well as Wesleyan's celebrated cinema archives. She's also the author of popular, accessible books on film, including The Star Machine and American Cinema: One Hundred Years of Filmmaking, the companion book for a ten-part PBS series. Her new book, The Movie Musical! (Knopf, $45), crowns her achievements with a comprehensive survey of the Hollywood musical from the end of the silent era through today. Written with her trademark enthusiasm and wit, the text offers analyses of both iconic and overlooked films, profiles stars ranging from Fred Astaire to Ann-Margaret to Elvis, and includes lavish spreads of both black-and-white and color photos.

$45.00
ISBN: 9781101874066
Availability: In Stock—Click for Locations
Published: Knopf - November 5th, 2019
---
Winner of the 2016 Pulitzer for criticism, Emily Nussbaum writes about TV like the art that it is. Gathered from some fifteen years of work for The New Yorker, New York, and other publications—along with several new pieces—the essays in I Like to Watch (Random House, $28) wholeheartedly celebrate television and guide us to new ways of looking at it. Arguing that TV demands more than just watching, Nussbaum outlines her struggle with "prestige television"—an awakening she traces to Buffy the Vampire Slayer—and questions the breakdown of shows into high and low-brow. She also examines programming in the light of #MeToo, explores how fans distort their favorite shows, profiles influential figures such as Kenya Barris, Jenji Kohan, and Ryan Murphy, assesses the legacies of Norman Lear and Joan Rivers, and more.

$28.00
ISBN: 9780525508960
Availability: Not On Our Shelves—Ships in 1-5 Days
Published: Random House - June 25th, 2019
---
Pages