Following her debut in Claire DeWitt and the City of the Dead, Sara Gran's hard-edged and wry private detective is back. Claire DeWitt and the Bohemian Highway (Houghton Mifflin Harcourt, $20) sees our heroine return home to San Francisco to investigate not just the theft of a valuable guitar, but the murder of her former lover, a popular local musician. It's an emotionally taxing case, and Claire drinks, snorts, and smokes her way through "The City by the Bay" as she zeroes in on the murderer. But while the toll on Claire is heavy and her downward spiral bleak, her work dredges up memories that lead her to a breakthrough, and she's that much closer to finding the key to the disappearance of her best friend—the biggest unsolved mystery of Claire's life.

ISBN: 9780547429335
Availability: Out of Print in This Format
Published: Houghton Mifflin Harcourt - June 18th, 2013
---

$15.99
ISBN: 9780544227781
Availability: Not On Our Shelves—Ships in 1-5 Days
Published: Mariner Books - May 20th, 2014
---
No matter how you feel about "heroin chic" or her personal life, there is little question that Kate Moss has had an unparalleled modeling career. Kate: The Kate Moss Book (Rizzoli, $85) is a comprehensive collection of images that spans two decades and includes never-before-seen photographs from Moss's own archives. The close collaboration of Moss and her editors, three luminaries of the fashion world, Fabien Baron, Jess Hallett, and Jefferson Hack, has resulted in a book that is as beautiful as it is personal. A friend once said to me, "whatever Kate Moss is selling, I'm buying." My recommendation? Follow my friend's advice and buy this amazing book about a truly stunning woman.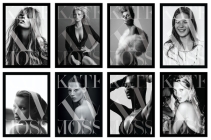 $95.00
ISBN: 9780847837908
Availability: Not On Our Shelves—Ships in 1-5 Days
Published: Rizzoli - November 6th, 2012
---
Pages