The power and grace of Vanity Fair is that it celebrates the iconic beauty and intelligence of the moment while priming us for the next cultural wave to look out for. From jazz-juiced America to a land mourning Camelot, from the first moments of hip hop to the social-media era, Vanity Fair has mapped every trend, personality, and moment of significance in the last century. Combining witty, well crafted narrative and the sweeping, gorgeous images the magazine is known for, editor Graydon Carter has given us a time capsule in book form with Vanity Fair 100 Years (Abrams, $65). Fans of the magazine will delight in the detail of the creative process behind the scenes, while more casual observers will marvel at the scope and depth of what Vanity Fair has captured. Here's to another century of visual dynamism and fascinating stories.

ISBN: 9781419708633
Availability: Hard to Find
Published: Harry N. Abrams - October 15th, 2013
---
No matter how you feel about "heroin chic" or her personal life, there is little question that Kate Moss has had an unparalleled modeling career. Kate: The Kate Moss Book (Rizzoli, $85) is a comprehensive collection of images that spans two decades and includes never-before-seen photographs from Moss's own archives. The close collaboration of Moss and her editors, three luminaries of the fashion world, Fabien Baron, Jess Hallett, and Jefferson Hack, has resulted in a book that is as beautiful as it is personal. A friend once said to me, "whatever Kate Moss is selling, I'm buying." My recommendation? Follow my friend's advice and buy this amazing book about a truly stunning woman.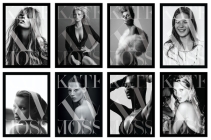 $95.00
ISBN: 9780847837908
Availability: Not On Our Shelves—Ships in 1-5 Days
Published: Rizzoli - November 6th, 2012
---
In Alexander McQueen: The Life and the Legacy (Harper Design, $35), Judith Watt presents an illustrated biography of one of fashion's greatest contemporary designers, a man with enormous vision who was challenged by personal demons. Watt shows how McQueen, the youngest son of a taxi driver and a teacher, was a man of contradictions— tenacious yet uncertain in his ambitions, charming yet a compulsive liar who delighted and encouraged the many apocryphal stories that surrounded him—and reveals how McQueen's designs reflect a similar tension between extremes. Known for his flamboyant and theatrical runways, McQueen pushed himself to create new silhouettes and to combine fabrics and styles in innovative and avant-garde ways. From bumster pants to the Armadillo shoe, Watt's intimate portrait proves that McQueen's impact on contemporary fashion design is undisputed.

ISBN: 9780062131997
Availability: Hard to Find
Published: Harper Design - October 30th, 2012
---

ISBN: 9780062284556
Availability: Hard to Find
Published: Harper Design - August 27th, 2013
---
Pages