Pick up this book. Now read the first 6-10 pages. Go ahead…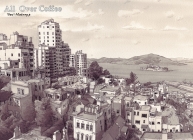 $30.00
ISBN: 9780872864566
Availability: Not On Our Shelves—Ships in 1-5 Days
Published: City Lights Books - April 1st, 2007
---
I can't remember the last time I read something I loved this much. I actually had to put it down just so it wouldn't be over. If you don't believe me, ask one of the more than one thousand people who bought their copy here!

$16.99
ISBN: 9780061374234
Availability: Not On Our Shelves—Ships in 1-5 Days
Published: Ecco - September 8th, 2009
---
As the author photo indicates, Paul Auster has an inquisitive eye. In these three novels, Auster pulls back the curtain on a city where every resident is a character and every detail is a clue. We become accomplices in his identity scam, partners in his stake-out and doppelgängers in his circus mirror. Even the cover of this edition (gorgeously rendered by Art Spiegelman) hints at the beautiful complexity inside. If you've never read Auster, read this. If you have, read more.

$20.00
ISBN: 9780143039839
Availability: Not On Our Shelves—Ships in 1-5 Days
Published: Penguin Classics - March 28th, 2006
---
Pages