Leon Krier's Drawing For Architecture (MIT Press, $24.95) is the perfect fit for any stocking—or any coffee or drafting table. Krier's work is humorous and enlightening, putting complex ideas into simple terms with minimal text and maximum effect. This collection of wonderfully rendered line drawings is at once a playful exploration of the art in architecture and an argument for the better use of public space.

$31.95
ISBN: 9780262512930
Availability: Not On Our Shelves—Ships in 1-5 Days
Published: MIT Press - July 10th, 2009
---
Born of a museum exhibition, Unpacking My Library: Architects and Their Books (Yale Univ., $20) is a delightful appreciation of books and builders. As you flip through this viscerally appealing, yet highly cerebral, volume, what at first seems an unlikely amalgam of subjects and media becomes coherent and important. New York's Urban Center Books visited twelve of today's preeminent architects (Michael Sorkin, Bernard Schumi, Toshiko Mori, Todd Williams, and Billie Tsien among them) to discuss and photograph their libraries. Each architect has compiled a far-reaching top ten list, which is fodder for the interviews; a spread of the "Top 10" covers accompanies precisely annotated photographs of the libraries, and close-up views of select shelves. Edited by Jo Steffens, this book of profiles is titled after a Walter Benjamin essay, which is included as a preface. Benjamin—and each of these architects—meditates on the essence of the book collector and our relationship to these objects.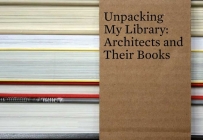 $22.00
ISBN: 9780300158939
Availability: Special Order—Subject to Availability
Published: Yale University Press - November 30th, 2009
---