As the foreword says, if you're a lover of the blues then this book is for you! But let's also include lovers of music in general, or even music legends specifically, because that's exactly what Robert Johnson was: living a rough and wild life, hard drinking, hard playing, with uncanny and wild abilities on the guitar, and dead by the (now famous) age of 27. Love in Vain is a dense and magical narrative, hypnotic in pacing and delirious in the world it details. Mezzo's fierce black inking and thick lines give the images a heavy realness that, like Johnson's hard-played music, forces itself into your psyche. This is a compelling and jarring read with a narrative finale which carries with it a historical and cultural punch to the stomach.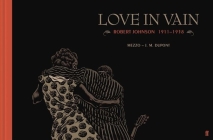 $29.95
ISBN: 9780571328833
Availability: Backordered
Published: Faber & Faber Social - December 13th, 2016
---
Retelling two daring, violent and captivating arctic expeditions, How to Survive in the North, also deftly blends a narrative of middle age angst (and mistake) into an adventure story of true beauty. Robert Bartlett's fierce determination and skill, Ada Blackjack's resourcefulness, and Vilhjalmur Stefansson's wild, blundering, optimistic naiveté make excellent reading. The story is made more moving by the lightness of Healy's linework, and the steady plodding of his narrative grids. An excellent visual and narrative package.

ISBN: 9781910620069
Availability: Out of Print in This Format
Published: Nobrow - November 15th, 2016
---

$15.95
ISBN: 9781910620328
Availability: Special Order—Subject to Availability
Published: Nobrow - September 5th, 2017
---
Lush, colorful, dynamic. Yes, that's one way we may describe the "new world" of the first colonial settlers, but it's also how one could describe this graphic novel retelling of Pocahontas's encounter and eventual involvement with the settlers of Jamestown. This story is fully and comfortably centered on the heroine that is Pocahontas, in her slow maturity as a member of her people, of her obsessions and support of the white settlers, and of her eventual abandonment of her known way of life. Locatelli-Kournwsky illustrates this novel with fluid grace--penwork that is as magical and alive as the forests that Pocahontas runs through. Pocahontas really delves into the titular character, exploring issues such as otherness with artistic refinement. A brilliantly executed piece of historical fiction.

$25.95
ISBN: 9781681772172
Availability: Special Order—Subject to Availability
Published: Pegasus Books - September 6th, 2016
---
Pages