A comic-biography by the Japanese comics master Shigeru Mizuki! Hitler has remained an enigmatic and frightening character for more than seventy years and Mizuki's skillful hand, careful but swift storytelling, and ever present comic humor taken on the task of biographer for one of the most powerful and destructive, men in history. Told in Mizuki's inimitable style, Shigeru Mizuki's Hitler takes a deep and serious look at a man who upended the political system in Germany, raised populist power, and ushered in unprecedented violence and hate--it should be more than clear why now more than ever we should learn from the past.

$24.95
ISBN: 9781770462106
Availability: In Stock—Click for Locations
Published: Drawn and Quarterly - November 17th, 2015
---
First serialized in a Buenos Aires newspaper, The Eternaut is momentous science fiction graphic novel that captures a world of chaos and fear, catastrophe and paranoia--a perfect reflection of the world of the late 1950s, the years it was created. The Eternaut is deeply political and strives to tell a narrative centered around the goodness of humanity faced with peril. This is immense and moving work of fiction, finally available in English.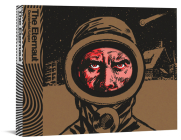 $49.99
ISBN: 9781606998502
Availability: Backordered
Published: Fantagraphics - November 24th, 2015
---
From forgotten underground comics masterpiece, brilliant gag comics, and masterpieces translated for the first time into English, NEW YORK REVIEW OF COMICS is doing something truly great. Pick up Glen Baxter's Almost Completely Baxter for a look at the highlights of a wild career of hilarious, absurd, adventurous and silly one-panel comics.

$22.95
ISBN: 9781590179857
Availability: Special Order—Subject to Availability
Published: New York Review Comics - May 24th, 2016
---
Pages